Eastown Association of Grand Haven, Michigan is a network of businesses and residents working together to build community.
Contribute to Eastown and get your logo in our contributor's image gallery.
---
SATURDAY OCTOBER 6, 2012
East Grand River Park
Corner of Beechtree & Franklin

FALLFEST 5K Run/WALK 9:00AM
Come for the RUN...Stay for the Fun!
This 5K Run or Walk through the streets of Eastown is open to runners and walkers of all levels. Awards to the top 3 in each age group!  Register at www.goracego.com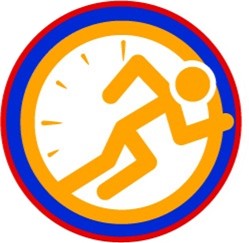 secure online registration:
or
[CLICK HERE TO CONFIRM REGISTRATION]
RACE SPONSORS
PFAFF PHARMACY • CHEMICAL BANK • D&W • RYCENGA'S • VOYAGERS • COMPREHENSIVE EAR & HEARING • PRELESNIK ANIMAL HOSPITAL • REAUME HEATING & COOLING • RICH'S AUTO SERVICE • RYCENGA BUILDING CENTER • SANCTUARY AT THE SHORE • SEMLOW CHIROPRACTIC PEAK PERFORMANCE
TASTE OF EASTOWN - NOON to 4:00PM
East Grand River Park
Eastown is home to a delicious array of culinary delights!  They'll be in one place for you to taste - each booth will have family friendly prices posted.
STANZ CAFÉ ~ Coney Dogs
EAST END ICE CREAM ~ Last Day Season Specials
JW's Food & Spirits ~ White Chicken Chili
Grand Haven ELKS ~ Walking Tacos
McDonald's ~ Refreshments
BC Chicken ~ Wings
WGHN "PARADE A PALOOZA" & BIG WHEEL RACE
NOON to 12:30PM
East Grand River Park
Parade line up corner of Franklin & Eastern at 11:45 AM
PARADE A PALOOZA begins at NOON. Celebrate your silly side!  Groups, Organizations and Neighbors are all invited to participate! Walk or ride (bikes, big wheels. tricycles. skateboards & scooters). The Parade a Palooza Grand Marshall is WGHN News Director Walt Zerlaut.
BIG WHEEL RACE Begins at 12:30PM. For the young & young at heart, bring your Big Wheel or Tricycle!
QUESTIONS: This e-mail address is being protected from spambots. You need JavaScript enabled to view it
PET EXPO
12:30PM to 4:00PM
East Grand River Park
A variety of pet related people, places & of course pets will be at Fallfest! Stop by with your four-legged friend or stop by to find out how to adopt. Pet related businesses will be there with free samples, activities for the kids and more!
Paw Pro ~ Nail Trimming
Chow Hound ~ Food Samples
Paradise Dog Training ~ Demonstrations
Michelle's Rescue ~ Pet Adoptions & Microchipping
4H ~ Decorate Doggy Face
Precise Pet Food ~ Samples
FREE Kid's Activities 12:30PM to 4:00PM
East Grand River Park
Family Fun Activities for All Ages!
Grand Haven Gospel ~ Pumpkin Patch & Inflatables
Mary Kay ~ Face Painting
St. Patricks ~ Bead Craft
First Christian Reformed Church ~ Puppet Show
Kids Kourt ~ Obstacle Course
City Farmer ~ Pine Cone Decorating
GHAPS Early Childood Program ~ Ring Toss
Semlow Chiropractic ~ Bead Project
Womens Club of Grand Haven ~ Guess Jar
Brusveen ~ Wheel of Winning
Harbor Transit ~ Trolley Rides
Ippel Insurance ~ Coloring Project
Macatawa ~ Money Hunt
Voyagers School ~ Ring Around the Pumpkin
Spotlight Dance Academy ~ Dunk A Dancer
Grand Haven Elks ~ Soccer Shoot
Wee Friends ~ Make & Take It Art
Lions Club Kids Sight Project ~ Vision Screening
St. Paul's United Church ~ Make & Take It Craft
GH Township Fire Department ~ Smoke House
Fallfest Kid's Activities Sponsors
Below are just a few of the Fallfest Children's Activities Sponsors. Thank You ALL for your support!
EASTOWN SOUNDS
1:00PM to 4:00PM
East Grand River Park
Bringing Family, Friends and the Community Together!
Featuring Grand Haven's Own Mystic Dub! Bring a lawn chair or blanket, listen to the music, dance a little, eat a little... have a lot of FUN!
EASTOWN INFORMATION BOOTH
NOON to 4:00PM
East Grand River Park
Education * Communication * Celebration
To celebrate community by recognizing. embracing and honoring our diversity.
This is the Volunteer Check-In and where you can learn all you need to know about the Eastown Association!
2012 FALLFEST SPONSORS!
Thank You to ALL our Sponsors! Fallfest would not happen without Your Support!
•First Christian Reform Church •Brusveen Chiropractic •Paw Pro •MaryKay •Chemical Bank •D&W •J.W.'s •Kids Kourt •Stanz Café •Pfaff Pharmacy •Rich's Auto •The City Farmer •East End Ice Cream •Spotlight Dance Academy •Chow Hound •Grand Haven Elks •BC Chicken •Comprehensive Ear & Hearing •Grand Haven Gospel •SemlowChropractic Peack Performace •Eco Trek Fitness •Floyd's Tire & Auto Repair •Macatawa Bank •GHAPS •Harbor Transit •St. Patrick's & St. Anthony Parish •St. Paul's United Church of Christ •Wee Friends Childcare & Learning Center •Grand Haven Women's Club •Ippel Insurance •Voyagers •Rycenga Building Center •Prelesnik Animal Hospital •Reaume Heating & Cooling •Tri-Cities Wellness •Sanctuary at the Shore •WGHN •City of Grand Haven •Mike & Jane Hutchins
THANK YOU!
SEE YOU NEXT YEAR FOR
FALLFEST 2013!

---
One benefit many businesses have taken advantage of is group advertising to make it more affordable to promote your business.  Another benefit is the networking between the business and resident members that takes place
If you are interested in joining please send your contact information to This e-mail address is being protected from spambots. You need JavaScript enabled to view it .